Recommended Global Chemistry Webinars & Conferences
Mass Spectrometry 2020
About Conference
Mass spectrometry 2020 welcomes all the participants from all over the world to attend 9th Global summit on mass spectrometry, this auspicious event is hosted during October 15th, 2020. We cordially welcome all the international participants, eminent researchers, students, business entrepreneurs and delegates.
This summit includes Speaker talks, Keynote sessions, Poster presentations from the Young Researchers Symposia, and B2B meetings with world-renowned speakers from the stream of mass spectrometry.
Mass spectrometry 2020 is a unique opportunity to discuss best practices within the laboratory and those in other industries, There will be many seminars and technical sessions taking place which will catch the attention of the professionals to attend Mass Spectrometry 2020 conference and, here we can get a chance to know views of different people working on mass spectrometry and related things which can help us improve our own ideas and processes. Mass spectrometry 2020 summit is designed to cover various aspects of applications which include metabolomics, clinical applications and pharmaceutical analysis, Mass spectrometry plays most significant role in field of chemistry, physics, biology, clinical Biomedicine and even in the space technology.
Mass spectrometry 2020 is aimed to promote innovation, to share advanced knowledge about mass spectrometry and to encourage applications of spectrometry in diverse fields of study.
Who should attend and Who You'll Meet?
Spectroscopists & Experts in Analytical Techniques
Research Heads from Laboratories & Research Centres
Research and Development Department
Leads from Pharmacy and Chemical Industries
Analytical instrument manufacturing companies
Industrial expertise and Manufacturers working with various spectrometers
Directors and Professors from Universities and Institutions
Post-doctoral and Ph.D. students working on Analytical & Bio-Analytical techniques
Theoretical scientists working on deriving analytical techniques
Research laboratories Scientist
Professor and Associate professor of analytical chemistry
Marketing teams of Industries with novel products to showcase at the conference
Market Analysis
The market of mass spectrometry is projected to achieve USD 6,313.7 million by 2024 from USD 4,569.1 million in 2019, rising at a CAGR of 6.7%.
The key players in the market comprise SCIEX (US), Agilent Technologies (US), Thermo Fisher Scientific (US), Waters Corporation (US), PerkinElmer (US), Shimadzu Corporation (Japan), Bruker (US), Analytik Jena (Germany), JEOL (Japan), Rigaku (Japan), DANI Instruments (Italy), LECO (US), Hiden Analytical (UK), Kore Technology (UK), Extrel CMS (US), MassTech (US), AMETEK Process Instruments (US), MKS Instruments (US), Advion (US), and FLIR Systems (US).
The North America dominated the international market, and it is possible to be driven by factors such as the increasing number of government investments in pharmaceutical, biotechnology, medical, and academic research studies that make use of mass spectrometry techniques, followed by Europe and Asia
The mass spectrometry market is projected to grow at a CAGR of 6.7% during the projection phase.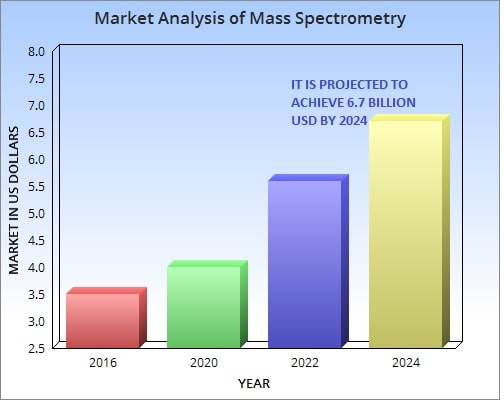 Competitive Market analysis:
companies which are top key players are focusing on the development of instruments and techniques that can carry out FT-IR and NIR in a single device. Bruker Corp. company that belongs to California already built Multipurpose FT-NIR analyser. and also Thermo Fisher Scientific company which is believed to be one of the key players in the market is offering that include, equipment with consumables, analytical instruments, diagnostics, discovery, software and services for research & analysis, manufacturing, The company has four operating business segments, laboratory products, and, life technologies business and analytical technologies specialty diagnostics and services. Companies such as Boeing, Hewlett Packard (HP), General Electric (GE) and Lockheed Martin have successfully executed Six Sigma. Governments globally are likely to lay down strict quality policies and regulations for manufacturing in order to get superior quality products.
Related societies
North America:, American Society for Mass Spectrometry, The Coblentz Society American Chemical Society Division of Analytical Chemistry, , North American Society for Laser-Induced Breakdown Spectroscopy, Society for Applied Spectroscopy, International Society of Automation, California Separation Science Society
Europe: The Austrian Society of Analytical Chemistry, Royal Society of Chemistry, Royal Society of Chemistry Analytical Division, The AES Electrophoresis Society, European Chemical Society, Swedish Chemical Society, The Filtration Society
Asia-Pacific: The Israel Society for Analytical Chemistry, Federation of Asian Chemical Societies, The Israeli Society for Mass Spectrometry, Spectroscopical Society of Japan, Federation of Asian Chemical Societies.
About Munich
Why to visit Munich?
Munich, It is a fun-loving city, recognized for its seasonal festivals and rich cultural, along with visiting the beautiful churches and outstanding museums and palaces, you should spend some time enjoying life with the locals at a festival in colorful market, or over a piece of one of Munich's famous cakes in a konditorei. with Munich residents you can also enjoy their many public parks and gardens, the lovely 900-acre English Garden. Given the number of tourist attractions and things to do, you should expect to spend at least a few days exploring Munich. The city's name München came from the word Mönch which means monk. A monk is also depicted on city's coat of arms. Wittelsbach dynasty ruled over Munich, Bavaria's capital from1180 until 1918. It has centuries-old buildings and numerous museums, including the famed Hofbräuhaus, which was founded in 1589. In the Altstadt (Old Town), central Marienplatz square contains landmarks such as Neo-Gothic NeuesRathaus (town hall), with a famous glockenspiel show that chimes and re-enacts stories from the 16th century.
The city has several of the largest breweries in Germany and is famous for its beer, City is known for its annual OKTOBER FEST celebration in the month of October and its beer halls. It has a diverse combination of historic and modern architecture, because historic buildings destroyed in World War 2 were reconstructed, and landmarks were built.
Important Dates & Links
Abstract Submission:
1st Deadline: February 19, 2020
2nd Deadline: June 22, 2020
3rd Deadline: September 24, 2020
For online Abstract Submission, PS: Mass Spectrometry2020 Abstract
Registration:
1st Early Bird: Feb 29, 2020
2nd Early Bird: June 28, 2020
Final Date: September 30, 2020
For online Registration, PS: Mass Spectrometry2020 Registration
Useful Links:
Why To Attend
With members from around the world focused on learning about Mass Spectrometry; this is your best opportunity to reach the largest assemblage of participants from the Analytical Chemistry Community. Conduct presentations, distribute information, meet with current and potential scientists, make a splash with new Advances in Mass Spectrometry, Analytical Chemistry, Proteomics, Metabolomics, Clinical Diagnostics, Clinical Virology and receive name recognition at this 2-day event.
To Collaborate Scientific Professionals around the World
Conference Date October 16-17, 2020
For Sponsors & Exhibitors
Speaker Opportunity
Day 1